"Create your members areas (free or commercial) with your WordPress website"
Membership Manager allows you to create your members areas. It saves your members into your database and, if you wish, sends them a registration confirmation email and subscribes them to a list of your autoresponder.
Membership Manager allows you to create pages and contents available only to your members (or only a portion of them) and get statistics about your members and members areas. It also supports content dripping (it allows you to create pages and contents that are available to members only after a certain time after registration).
Test it now. Click on this image: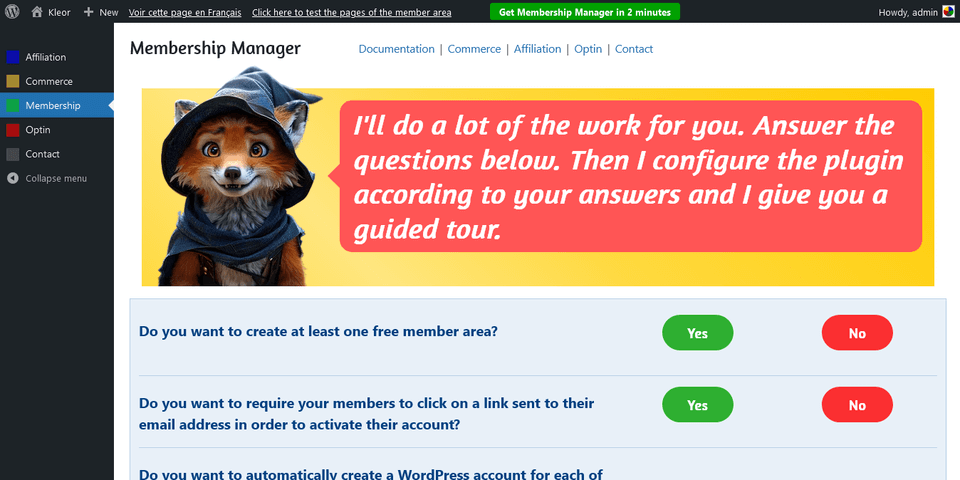 Integration with Commerce Manager
You want to create commercial members areas? No problem. Membership Manager works perfectly with Commerce Manager in order to create commercial members areas. It also works with Affiliation Manager if you want to create an affiliate program for your members areas.
Setting up in less than 3 minutes
With Membership Manager, you can set up a member area in less than 3 minutes. The documentation of the plugin explains you how to do this. With a single click, you can create the pages relating to membership (Registration, Profile…).
You will also have access to a page where you can check the goals you want to reach with Membership Manager. This page will automatically create for you a personalized plan that you can follow step-by-step to reach your goals with this plugin: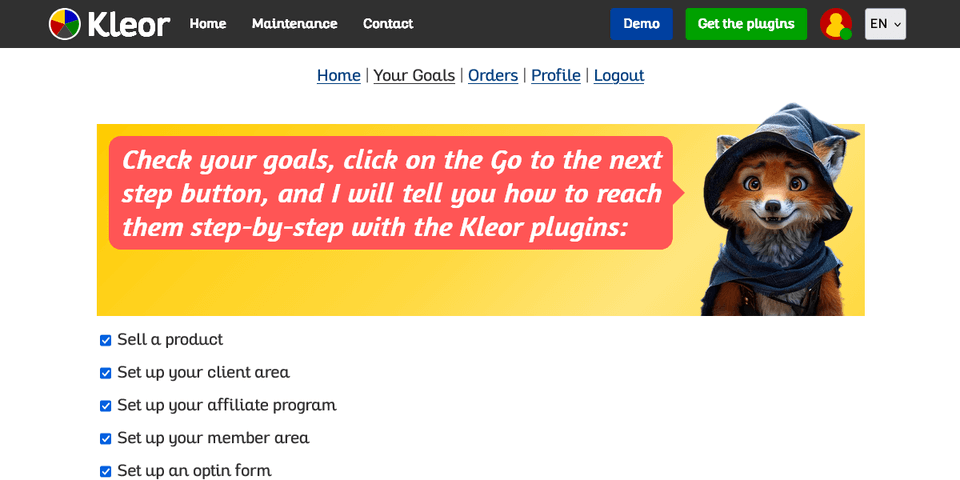 Optimal performances for a better SEO
Some WordPress plugins slow down the websites that use them. Membership Manager has been developed with a lot of attention to its performances so that it doesn't slow down your website and it remains fast.
As proof, all Kleor plugins (including Membership Manager) are activated on this website, which does not use any cache plugin. And yet, it is significantly faster than average.
Compatible with the latest versions of WordPress
Membership Manager is compatible with the most recent version of WordPress (5.3.2) as well as with earlier versions, up to version 3.8 (released more than 6 years ago).
Compatible with the GDPR
The GDPR, which came into force on May 25, 2018, introduces the right to portability, which offers individuals the ability to receive their personal data, in a structured, commonly used and machine-readable format. That's why Membership Manager allows your members to download a CSV file containing their personal data.
An ergonomic plugin, easy to understand

An ergonomic plugin, easy to understand (despite the many menus) and powerful. The protection system is very smart, with many levels: the entire page or only a part, to a member area or more. The documentation is well detailed.

I liked the default configuration of members areas that can be rewritten (or not) in other members areas. Therefore, once you've created one, the other members areas are quicker to create.

I'm finally not disappointed with my purchase: a very good plugin that I highly recommend to the serious entrepreneurs.

Marie-Eve
Les Doigts dans le Net
Customizable interface
Membership Manager is very intuitive. It is also very flexible and allows you to customize its interface to meet your specific needs.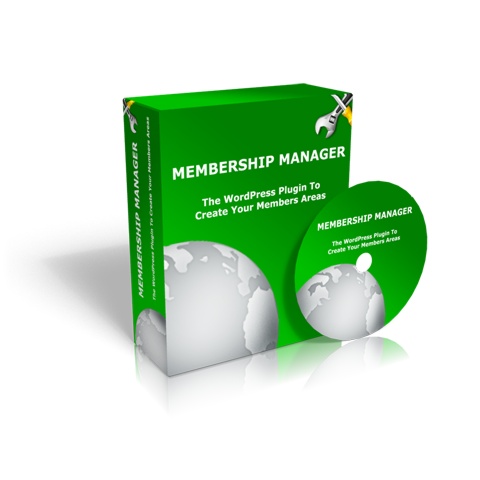 They use it. Here's what they think:
We regularly deploy these plugins on the websites of our customers (and our websites!)

For digital projects with real professionals, we have used and still use Kleor plugins. They are indisputably the most powerful and the most open in terms of possibilities.

On plugins made for digital marketing, it's always the performance that wins, not the design. For those interested, we regularly deploy these plugins on the websites of our customers (and our websites!) and we customize the design of the clients areas.

We work with Commerce Manager which allows to make an automatic payment via PayPal or credit card (the developer says that Stripe will be added soon). It also generates an automatic invoice available in the client area. And with Membership Manager which allows to deliver the different contents with automatic delivery just after the payment of the access to the member area.

The possibilities are endless. I emphasize that the quality of the plugins is such that we use the free plugin Contact Manager on all the websites of our customers and on our websites. All plugins allow you to automatically register prospects and customers in an autoresponder such as MailChimp, GetResponse or AWeber.

The support is undoubtedly a strong asset: the complete and rich documentation is online, and the developer is conscientious. Finally, the quality of the code makes the plugins always compatible (and since 2011!!!). Note that the updates are free, which is a rare thing. One more reason to take the plunge.

Nantes WEB
SEO agency in Nantes and digital marketing
The best membership WordPress plugin currently on the market

I was looking for a long time for an efficient WordPress plugin to create members areas. Plugins were either very complicated to implement, or they didn't work.

With Membership Manager, I found exactly what I wanted. A complete, simple and extremely efficient plugin with very many features.

Faced with the inability to find an appropriate plugin, I started using my limited knowledge of PHP to tinker solutions but I dropped it all when I tested Membership Manager that is really the best membership WordPress plugin currently on the market.

I recommend it without restraint!

I also add that the developer of this plugin is not only talented but also completely attentive and I have always received fast and accurate answers to my questions.

Theaud
Ecrivain Web
Great plugins!

To sell my math courses on Internet, I needed a simple and effective solution to manage payments, access to members areas, billing…

I chose to use the plugins of Jeremy for their ease of use. The documentation and the customer support are great. These plugins are very versatile and new features are added regularly. All this for a very competitive price compared to specialized platforms. In case of specific need, Jeremy listens to you and can create a plugin just for you.

Philippe Maury
Preparation for competitions and exams
Cours AB Carré
[+] See other testimonials (16 in all)
Free Upgrades
By getting now Membership Manager, you will get all the future upgrades of this plugin. This will allow you to benefit from new features in addition to many features included in the current version of Membership Manager. For example, here is the list of features we plan to add in the coming days:
Support for more autoresponders
Multi-Site License
You can install Membership Manager on each of your websites. You can also modify it for your personal use.
You will get this bonus
Not only will you get your copy of Membership Manager for only 107 USD, or 7 days free trial then 3 x 36.70 USD, but in addition, you will get this bonus for free:
the WordPress theme Light (value: 27 dollars), very lightweight, performing, responsive, optimized for computers, smartphones and tablets, and easily editable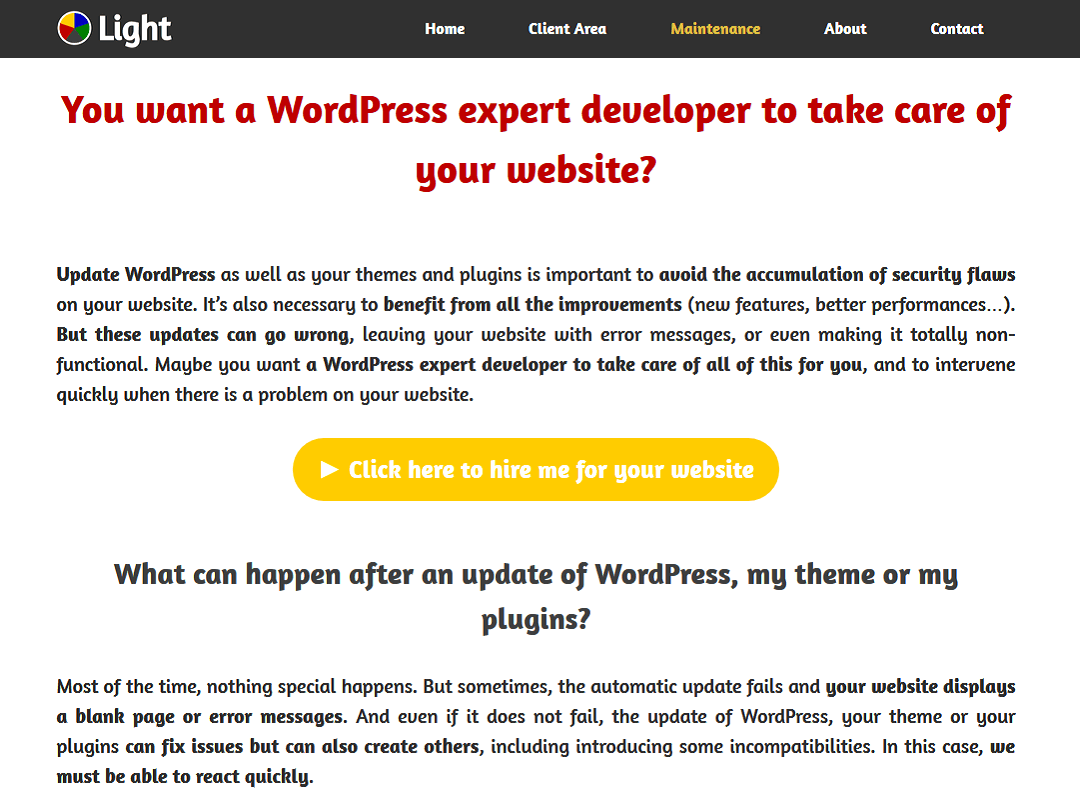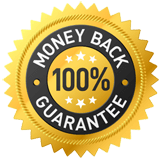 Money Back Guarantee
You can try Membership Manager for 15 days. Configure your options. Create your members areas. And if, for any reason, you're not satisfied, remove the plugin from your website, contact us and we will refund you fully. You see, we take all the risk for you.
You take no risk. Don't wait until tomorrow. Take action now!
To Your Success,
Jeremy Lebre
Creator of Membership Manager
Who is Jeremy, the creator of Membership Manager?
Jeremy is a very talented developer, specialist of WordPress for more than 10 years now.
He started by creating free plugins. Then he performed various services on WordPress websites: customization of themes, bug fixing, creation of custom plugins, creation of performing websites…
He also learned a lot about marketing, and about strategies and tactics to increase conversion rates and sales on a website.
That's why he decided to create 4 very elaborate commercial plugins to sell your products, create your affiliate program, your members areas and build your prospects lists. Today, these 4 plugins have helped thousands of entrepreneurs to carry out their projects.
P.S. Don't miss this opportunity and get your copy now!
You will get all the future upgrades for free, as well as the WordPress theme Light (value: 27 dollars), very lightweight, performing, responsive, optimized for computers, smartphones and tablets, and easily editable!
And if you're not satisfied with Membership Manager, you have a money back guarantee.