You want a WordPress expert developer to take care of your website?
Update WordPress as well as your themes and plugins is important to avoid the accumulation of security flaws on your website. It's also necessary to benefit from all the improvements (new features, better performances…). But these updates can go wrong, leaving your website with error messages, or even making it totally non-functional. Maybe you want a WordPress expert developer to take care of all of this for you, and to intervene quickly when there is a problem on your website.
What can happen after an update of WordPress, my theme or my plugins?
Most of the time, nothing special happens. But sometimes, the automatic update fails and your website displays a blank page or error messages. And even if it does not fail, the update of WordPress, your theme or your plugins can fix issues but can also create others, including introducing some incompatibilities. In this case, we must be able to react quickly.
WordPress websites are highly targeted by hackers.
WordPress is by far the most popular CMS. More than 40 % of websites are created with WordPress! This is why hackers are very interested in this CMS. They even have scripts that automatically detect unupdated WordPress websites in order to attack them in particular. It's because of these scripts that most WordPress sites experience multiple hacking attempts every day, although this is rarely noticed before these attempts succeed, except by examining the log files. In addition to updates, several things must be done to secure a WordPress website.
What can a hacker do if he manages to hack my website?
Completely modify the pages of your website, steal your data, edit or delete your files, send spams from your website, infect the computers of your visitors, redirect them to another website… Most of the time, hackers can very easily know which version of WordPress you are using. And if it is obsolete, it allows them to know some of the security flaws present on your website in order to exploit them.
Because your data is valuable…
I will back up the database of your website at least once a day in a secure folder on a server separate from the one that hosts your website. So if a problem occurs on the server hosting your website, you'll still have several intact backups of your database, in order to be able to restore your website as it was before the incident occurred.
As a precaution, I will also back up your database just before each update I'll make on your website.
Who am I?
My name is Jeremy Lebre and I am a developer, specialist of WordPress for more than 14 years now.
I started by creating free plugins. Then I created and marketed myself 4 very elaborate commercial plugins to sell your products, create your affiliate program, your members areas and build your prospects lists. Today, these 4 plugins have helped thousands of entrepreneurs to carry out their projects. And you can get them for free if you hire me for your website, along with many other bonuses.
During all these years, I have also performed various services on WordPress websites: customization of themes, bug fixing, creation of custom plugins…
You can get for free these 4 plugins (total value: 280 dollars), along with many other bonuses.
Test them now. Click on this image: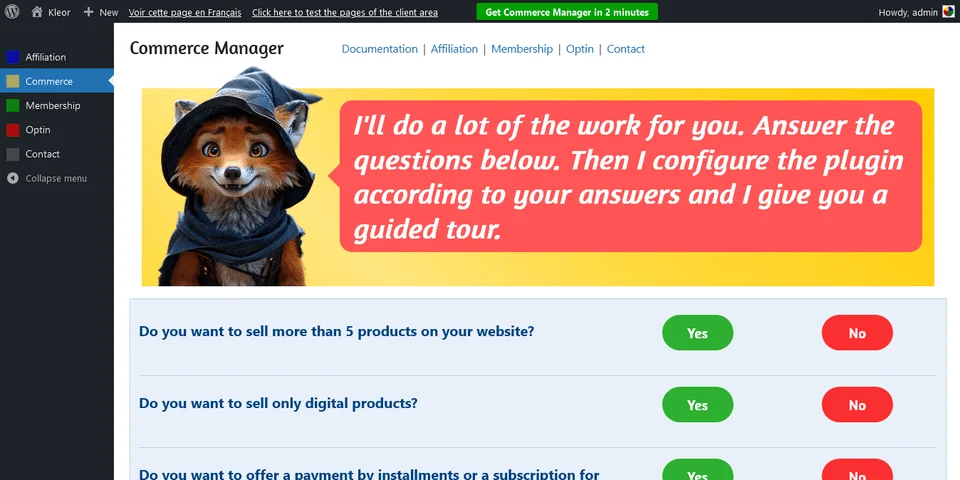 What are your guarantees?
Whenever an update is available for WordPress, your themes and your plugins, I will come myself to do this update manually, within a maximum of 24 hours. I will back up your database beforehand as a precaution. And I'll make sure everything works fine after this update.
I answer to your requests 7 days a week, within a maximum of 24 hours too, even on weekends and holidays! It's a human who takes care of your site, not a robot. And not an agency either, so whatever your request, you will always have the same interlocutor.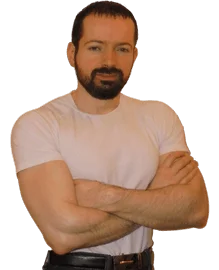 Jeremy Lebre, WordPress developer
They used my services:
[+] See other testimonials (5 in all)
Only 7 places available!
Given the time spent on each website to provide a good service, I have to limit the number of websites I maintain. Currently, 7 places are still available. The prices of the WordPress maintenance offers below will increase by about 20 % when there are only 5 places left.
Click on a WordPress maintenance
offer to choose it
Premium


1800 USD/year

Classic


830 USD/year

Light


505 USD/year

Manual update of WordPress, your themes and plugins, within 24 hours after the publication of these updates, and after backing up your database beforehand as a precaution

Yes

Yes

Yes

Verification of the proper functioning of your website after each update

Yes

Yes

Yes

Optimization of your .htaccess and wp-config.php files to improve the performance and the security of your website

Yes

Yes

Yes

Securing your website against hacking, blocking intrusion attempts

Yes

Yes

Yes

Activation of Cloudflare to increase the speed of your website, and improve your SEO

Yes

Yes

Yes

Identification of broken links in all pages of your website

Yes

Yes

Yes

Monitoring of the availability of your website

Every 20 minutes

Every hour

Every 4 hours

Cleanup, optimization and backup of your database, in a secure folder on a server separate from the one that hosts your website

Every 4 hours

Every 12 hours

Every 24 hours

Additional interventions (support, development, bug fixes, installation of an SSL certificate…)

30 hours/year




(2.5 hours/month)

12 hours/year




(1 hour/month)

4 hours/year




(20 minutes/month)

More than 310 dollars of bonuses (the 4 plugins Commerce Manager, Affiliation Manager, Membership Manager and Optin Manager, the WordPress theme Light, ebooks…)
Click here to see the full list of bonuses

Yes

Yes

Yes
You will get all these bonuses
If you choose the Premium offer, the Classic offer or the Light offer, you will get all these bonuses:
the WordPress plugin Commerce Manager, allowing you to sell your products, and all its future updates for life (value: 95 dollars)
the WordPress plugin Affiliation Manager, allowing you to create your affiliate program, and all its future updates for life (value: 95 dollars)
the WordPress plugin Membership Manager, allowing you to create your members areas, and all its future updates for life (value: 60 dollars)
the WordPress plugin Optin Manager, allowing you to create your prospects lists, and all its future updates for life (value: 30 dollars)
the WordPress theme Light, very lightweight, performing, responsive, optimized for computers, smartphones and tablets, easily editable (value: 30 dollars)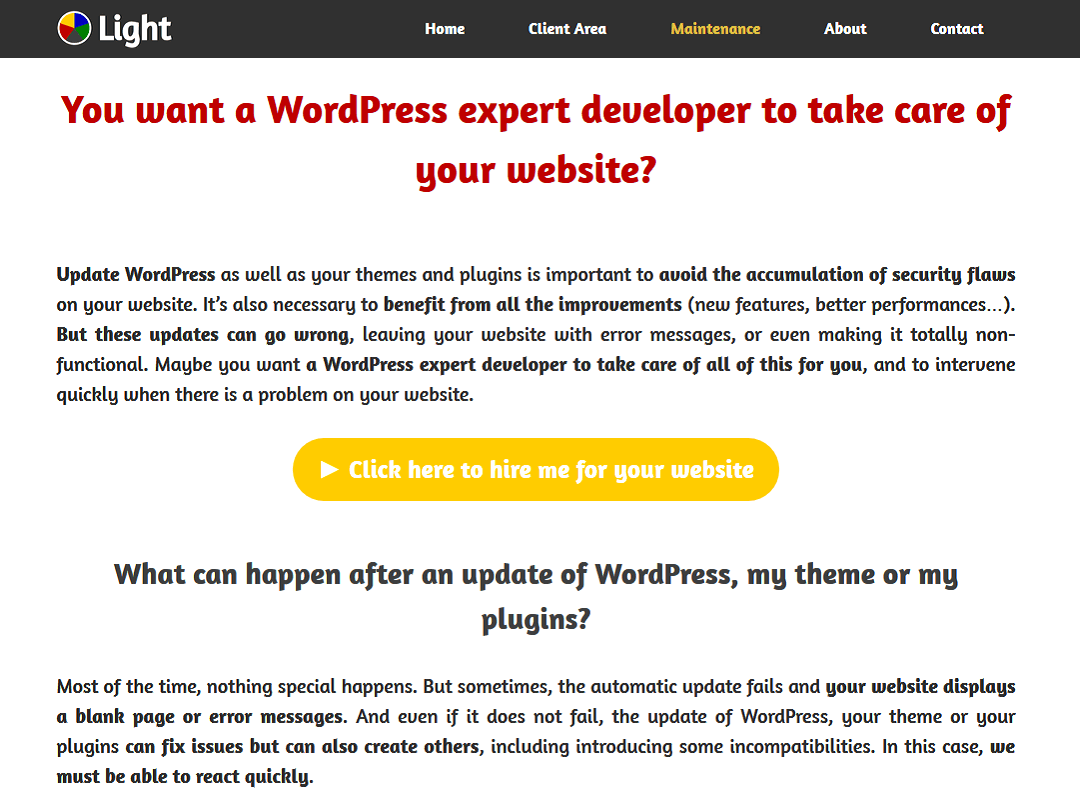 Here are some of the projects I did:
Complete development of the website, creation of the WordPress theme, increase of performance and loading speed, installation of the SSL certificate, adaptation to phones, tablets and computers (Kleor.com)
Creation of a system to audit the practices of managers, generation for each manager of a detailed report in PDF format, creation of an interface to view all the evaluations done and several statistics, creation of an email address capture form recording many variables (text and color of the title, of the submit button…) in order to do some analysis and optimizations on these variables, modifications of the website (Leadership-Paradoxal.com)
Creation of an order form in several pages recording a lot of data (where does the user come from, what type of device he uses, which step he stopped…) in order to do some analysis and optimizations, tips to increase the conversion rates of this form, generation of the certificate in PDF format, creation of a very elaborate form to declare a sinister (SereniTrip.fr)
Development, integration and maintenance of the website, customization of the WordPress theme (Tim-Burton.net)
Creation of a quiz form for a contest, the participants scores being automatically calculated and recorded on the website in order to contact the winners at the end of the contest (Tilekol.org)
Creation of a tool allowing the members of the website to create with a single click pages whose contents are personalized according to their login names, first names, last names… (Team-Tools.com)
Improvements of the navigation menu, repair of special characters, addition of a sidebar on all pages of the website, centering of the navigation menu at the bottom of the pages (MVP-PerformanceAchat.com)
Creation of a plugin generating two files useful for the accounting of the website, in CSV or XLS format (Cours-AB-Carre.com)
Creation of a script that automatically stores, for each new order, the corresponding invoice in a folder of the website (Apprendre-Memoriser.com)
Installation of an SSL certificate and migration of the website from HTTP to HTTPS (service performed on several websites)
Creation of a plugin to import members from Salesforce to Membership Manager, and allowing the members to see a full list of members, while doing a keyword search on those members, and choosing to show only those whose last name starts with a certain letter (AQCP.org)
Creation of a plugin that allows to manage audiobooks (ABS-Multimedias.com)
Creation of a plugin that allows to set up a guestbook (ABS-Multimedias.com)
Creation of a custom shopping cart (LCEFormation.com)
Many other projects…